SocialFare | Center for Social Innovation launches
PLANET FOUNDAMENTALS
–
the Italian call to accelerate social impact startups offering new solutions to the most urgent global challenges for the next future:
Urban Ecosystem for Common Good
Environment  |  Health |  Education | Social Cohesion 
4 mounth
social impact acceleration
2023: Which global risks for our society?
.
The World Economic Forum published the 18th edition of the Global Risks Report: more than 1,000 national leaders and experts from a range of global industries and sectors were interviewed to identify the most urgent risks for 2023.
Key risks and challenges point to the importance of urban ecosystems with more inclusive, attractive and education-oriented cities.
Specifically to:
Plan and design more sustainable urban environments
Promote health by reducing health inequality
Reduce educational inequality & gaps by reskilling and upskilling
Fight the Social Cohesion erosion
WHICH CHALLENGES FOR OUR STARTUPS?
.
We select startups capable of developing new products, services and models aimed to respond effectively to the new fundamental challenges on which the future of our society and the planet depends:

ENVIRONMENT
Development of sustainable urban environments offering better liveability
For instance:
Housing,

micro-mobility and inclusive mobility;

reduction and control of atmospheric pollution;

inner urban area relationship,

recycling and circular economy among others.

HEALTH
New models and solutions to improve services, facilities and patient treatment, as well as health care. 
For instance:
Telemedicine (remote medicine);

digital and advanced diagnostics;

patient focus (AI & Big Data, sensors and wearable devices),

paediatric health,

health of the elderly,

maternal health. 

 

EDUCATION
Access to knowledge to fight cognitive, training and work gaps
For instance:
Building and strengthening new skills through reskilling and upskilling,

open access to training,

inclusive learning models,

active learning,

educating for entrepreneurship,

fighting early school leaving (drop-outs)
SOCIAL COHESION
Solutions to fight  social cohesion erosion 
For instance:
Actions to promote and foster the growth of human and relational capital;

solutions to favour stronger practice, production, self production,

consumer and sharing communities to promote social, territorial, cognitive and economic development;

proximity economy and so forth

 
WHO ARE WE LOOKING FOR?
.
We are looking for teams willing and able to grow along us, triggering scalable systemic change while generating a new economy.
We accelerate impact startups with these characteristics:
Development stage
We are looking for early stage startups with a tested prototype or a market product 
Not in target:
business ideas
scaleups (revenue >2M€ / year)
Legal form

We accept applications both from established companies (innovative startups, SIAVS, S.r.l.), and from companies still in the constitution phase
Social Innovation

We select startups with an intentional, additional, measurable social impact
that stand out for the offer of a highly innovative product / service
WHAT ARE WE OFFERING?
.
Our acceleration program focuses on social impact startups:
4 Months of intense acceleration
A full-time online and offline program at Rinascimenti Sociali, Turin
Up to 100K€ in seed funding
in exchange for an equity percentage up to 15%
A dedicated acceleration team
Design, business planning, investment readiness and social impact assessment experts
A network of 50+ mentors and investors
Access to our prestigious network of impact investors, mentors and advisor
Desk in the coworking area and meeting rooms
Access to events taking place in our offices in the centre of Turin
SOCIAL IMPACT ACCELERATION
.
Our multidisciplinary team blends lean startup, design thinking and systemic design benefiting from the experience built up in the past 13 editions of the
FOUNDAMENTA program, working in close contact with startups, fostering their growth, helping them to attract investments
Product Service Co-Design
Business modeling & Impact Assessment
Networking for Scalability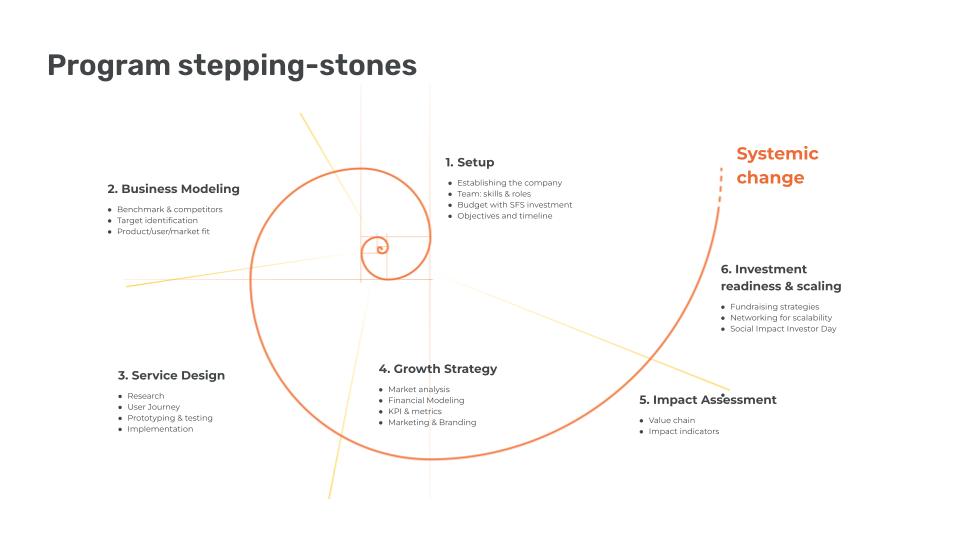 WHY APPLY?
.
SocialFare is the first Center for Social Innovation in Italy, founded in Turin in 2013. We are an incubator certified by the Italian Ministry of Economical Development.
Since 2016 we have dealt with the launch and implementation of 15 acceleration programmes accompanying 100 social impact start-ups which have meant funding for €40 M to date.
90% of the start-ups that received SocialFare Seed from 2017 to date successfully received further funding after our investment.
Thanks to our multidisciplinary team's expertise and to the prestigious network of mentors, advisors and impact investors we are able to offer a unique expert advice programme and equity investment for the generation of impact entrepreneurs.
READY TO INVEST IN YOUR IMPACT STARTUP!
SocialFare Seed invests up to € 100,000 in each social impact startup accelerated by SocialFare
SocialFare Seed is a private investment fund that supports startups and businesses accelerated by SocialFare.
If eligible, each startup/business can receive a seed fund of up to 100K€ (15% of which to be paid to SocialFare for acceleration services) in exchange for a percentage of equity of up to 15%, according to the valuation of the company.
The investment is paid in cash of at the beginning of the program.
OUR PORTFOLIO | 1,7 M€ invested by SocialFare Seed

SocialFare Seed Investments
PROGRAM AND SELECTION TIMELINE
.
Main steps of this edition of PLANET FOUNDAMENTALS timeline:
#1
30 April 2023
CALL DEADLINE
#3
June 2023
SELECTION DAY
#4
Sept 2023 / Jan 2024
ACCELERATION PROGRAM
APPLY TO PLANET FOUNDAMENTALS 2023!
.
You have time up to 30th of April 2023: