SocialFare Centre for Social Innovation is the first Italian centre completely dedicated to Social Innovation: research, community engagement, capacity building, and co-design are at the basis of our work to develop innovative solutions to contemporary societal challenges, while generating new social ventures.
"Social innovation can be defined as the development and implementation of new ideas (products, services and models) to meet social needs and create new social relationships or collaborations. It represents new responses to pressing social demands, which affect the process of social interactions. It is aimed at improving human well- being. Social innovations are innovations that are social in both their ends and their means. They are innovations that are not only good for society but also enhance individuals' capacity to act."
Social Innovation is a bottom-up process which embraces people's experiences, communities' knowledge, enabling technologies and social actions to bring on the ground innovative experimentations able to develop social entrepreneurship, sustainable solutions, and impact networks.
SocialFare designs and develops products, services, models via accelerating social impact knowledge and entrepreneurship, putting people first.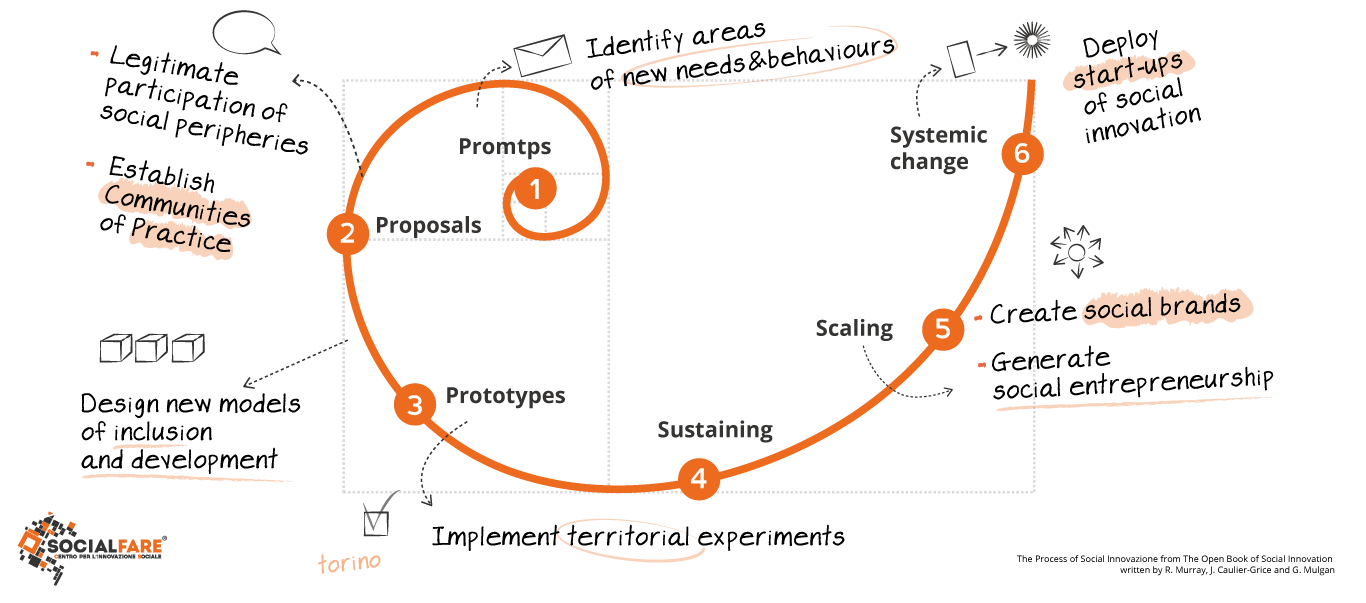 SocialFare applies a human-centred approach combined with systemic design and design thinking methodologies: beneficiaries are at the centre of the design and delivery process. Experts and impact networks accompany and support social innovations to make them become replicable and scalable.
Systemic Design
Systemic Design is a methodology which enables the analysis and the design of all relations among real and potential actors of a given system. Its aim is to generate social, environmental and economic sustainability. The systemic approach, through a holistic perspective, re-considers outputs as new and enhanced resources for a new system or process.
Design Thinking
Design Thinking is a creative and iterative methodology which starts from the observation of the user's behaviour, and is applied to design solutions for any context of life. Design Thinking puts beneficiaries and their needs at the centre of the solution development, triggering a new decision-making process and a better analysis of the societal issues to be tackled.
17 Sustainable Development Goals
For 2017, SocialFare has decided to take part in and promote the 17 Sustainable Goals (SDGs) through the actual work and developed activities with the Social Renaissance network.
For SocialFare®, social innovation is a key process in the development of policies and entrepreneurship aimed at a sustainable and collaborative economy. Therefore, the 17 Sustainable Development Goals represent an important aim for SocialFare® and, in agreement with the other 193 countries in the Unite Nations, we will work diligently to achieve them using our skills, network and know-how, understanding that all of these things are necessary to develop a sustainable development both on a local and global scale (read the full article).
For SocialFare working towards the SDG's means:
● Promote and disseminate the SDGs here in Italy, linking the efforts to those on an international level and all those who are pushing for and sustain the same vision (i.e., FAO, ILO, OECD, UNDP, WHO — World Health Organization.
● Contribute pragmatically to change, accelerate the spread of knowledge and, at the same time, promoting, designing and implementing effective solutions for sustainable development.
● Generate a new "economy with a social impact" that supports and helps create new business and development responses in-line with the SDGs.
● Develop projects that recognize the SDG's as the direction for the future and those who create innovations accordingly.
● Create and activate a network hub regarding the SDG's, to share experiences, practices, research, networking and lobbying.